Pachyderm Station

Our Tasting Room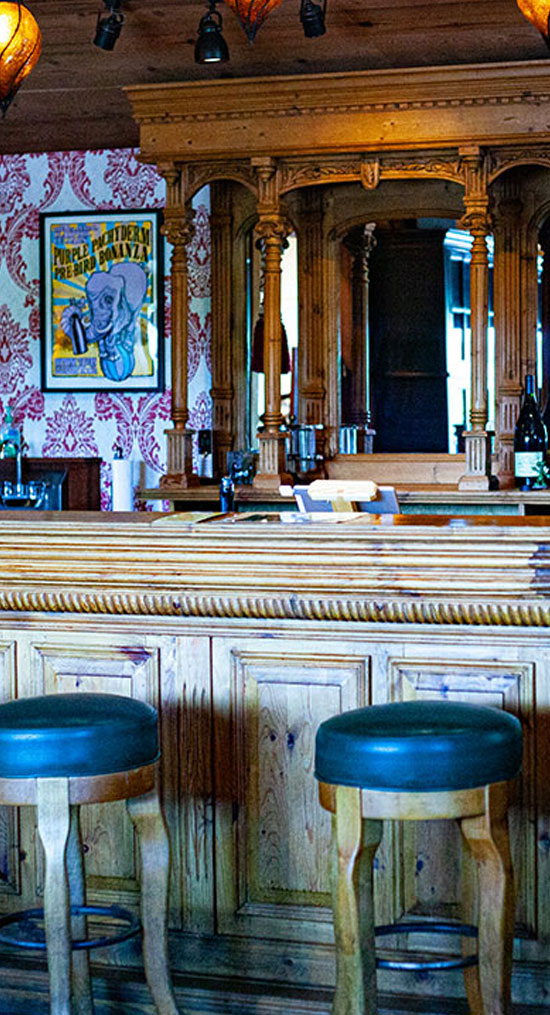 Pachyderm Station
Discover what makes Purple Pachyderm wines so special. Our casual tasting room, affectionately known as Pachyderm Station, is located along Gravenstein Hwy just south of Forestville. Guests looking for a unique and unpretentious wine tasting experience will find it in our tasting areas designed with a daring and fun aesthetic.
Savor the genuine hospitality of our knowledgeable and friendly staff with a glass of Pinot Noir sourced from our local vineyards. We offer tastings of five two-ounce pours for $35 (waived with each bottle purchase,) as well as full bottle service. On the weekends, amaze yourself by pairing our Pinot Noirs with a Whamola Weiner, high-end weiners created by Les.
Weather permitting, the outdoor patio is available touting the Weiner Wagon. Shaded adirondacks, cafe tables, and picnic tables are a relaxed way to enjoy our wines, your company, and beautiful Sonoma County. Our indoor tasting room offers a more intimate tasting experience with a big-top saloon vibe. Guests can sidle up to the tasting bar or relax in our cozy, corner lounge.
We are located about an hour and a half from San Francisco or Oakland, 20 minutes from Healdsburg and an hour from Sonoma or Napa. Well-behaved dogs on a leash are allowed on the patio, and children are allowed if they stay with you at your table. Reservations are required for groups of eight or more, as well as 15% gratuity.
Hours of Operation
Tuesday Closed
Wednesday-Monday 11:30AM - 5:30PM
Whamola Wieners Available Fri, Sat & Sun
Location: 5425 Gravenstein Hwy N Sebastopol CA 95472